How can you work with me to get your creative projects and ideas completed?
I have a few ways I can mentor you-
Have you been thinking about creating your own oracle deck but you struggle with the process and to clarify your theme and purpose a deck would have within your business?
This 90 min consultation via zoom allows you to bring your ideas and questions into a space where together we can strategically look at what the purpose of your deck would be, how it would be an asset to your existing business structure as well as work on a plan for the creation of your deck that you can use to achieve your goal.
If this sounds like something that could benefit you I would love the opportunity to work on clarifying these points with you.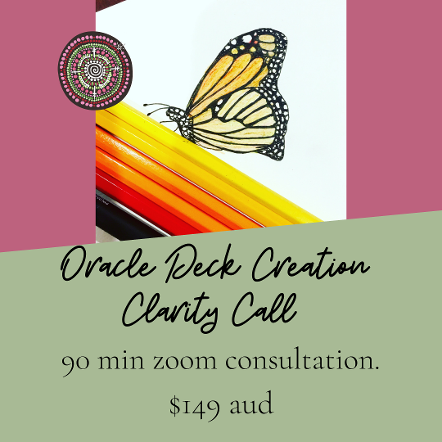 Introductory offer for my
3 month Creative Mentoring Package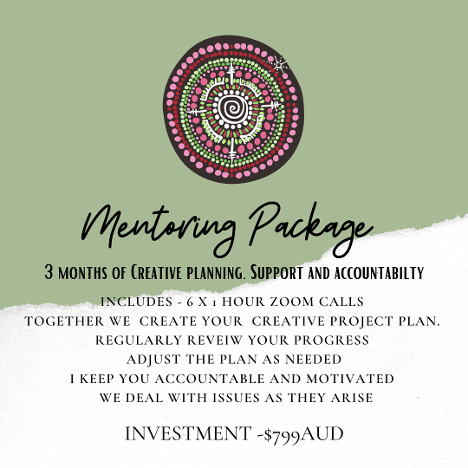 If you would prefer to take advantage of our 3 month payment plan you can make 3 monthly payment of $267.00 by using the "Buy Now' button below.
Is there a oracle deck just waiting to be given the creative space to take shape?
I can tell you in all honesty that you do not need to learn any more skills or be a better artist to create a deeply resonating deck that can assist and offer value to your existing audience.
What you do need is a plan, motivation, accountability and to believe in yourself and your abilities.
This package is specifically tailored to those creative entrepreneurs who know they need someone to mentor them throughout the process
The package consists of 6 x 1 hour zoom taken over a 3 month period. A workbook with your creative project planning tools & template and access to a monthly group mastermind.
I am only offer 10 places at the introductory price of $799 and then the price will be $999