the Importance of sharing our stories in a safe and supportive space.
Would you like to grab a cuppa and join me for an hour on a Friday Night?
My Cuppa & Card chats are held via zoom and are open to anyone who would like to hang out online with other oracle card readers, collectors and creators.
Sign up to my mailing list to be notified of upcoming Coffee & Card dates and to be sent the zoom meeting links you will need to join.
My CUPPA & CARDS Chats offers an opportunity to share your personal stories and card musings in a safe and respectful yarning circle.
Story telling allows us to share our own story and to hear from others their unique story, true personal stories of strength, growth, set backs, endurance, life and love.
In today's busy world we do not always have a traditional family structure with an extended family we can go to for advice and understanding. Instead we need to find our own soul family and surround ourselves with people who believe in us, support us, encourage us and who are comfortable being honest with us.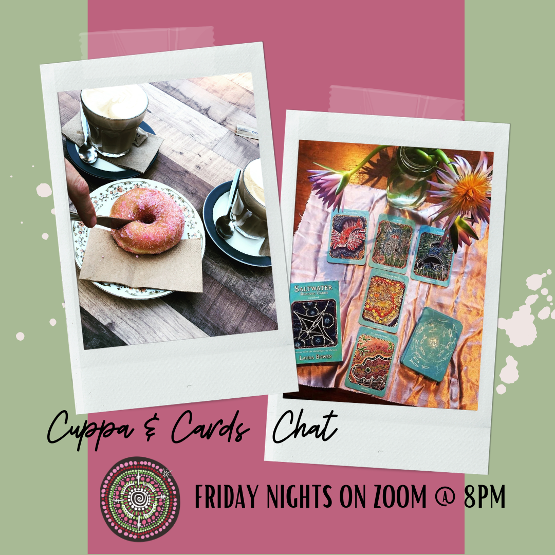 One of my favourite things is to sit at my table with friends and a cuppa and consult my oracle decks for some support, insight and guidance. Cards are drawn and through the card prompts stories are told and shared.
You are welcome to grab a card deck and join us if it sounds like something you would enjoy.
***I wish to acknowledge the Traditional Custodians of the Australia. I acknowledge and pay respect to the Gumbainggirr people who are custodians of the land I live on in the beautiful Bellingen Valley. I would also like to acknowledge and thank the Elders, both those who have passed and those who are with us, for the knowledge and wisdom the have shared and the strength and determination they have shown. It is because of their courage, wisdom and resilience that we have a continuous living culture that spans over 60,000 years***
© Laura Bowen 2020